Web-Based Wellness Solutions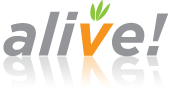 Alive! is an evidence-based health coaching program tailored to each individual. It runs itself with little administrative investment. It's proven to change diet and physical activity habits critical to health and productivity, and increases presenteeism.
An evidence-based online program. It's proven.
Alive! was developed by researchers and has been proven effective in several large studies, including the largest, successful randomized controlled trial of any online health coaching program.
Employees love Alive! Show them you care.
Alive is empowering, fun and works for any size group. Web, online and print options serve all learning styles. Make a big impact at low cost. Improve productivity, presenteeism and morale.
A cobranding and marketing tool.
Co-brand Alive! for external marketing, such as reward programs, purchase incentives and image building. HMO's can "private label" Alive! for added value at low cost.